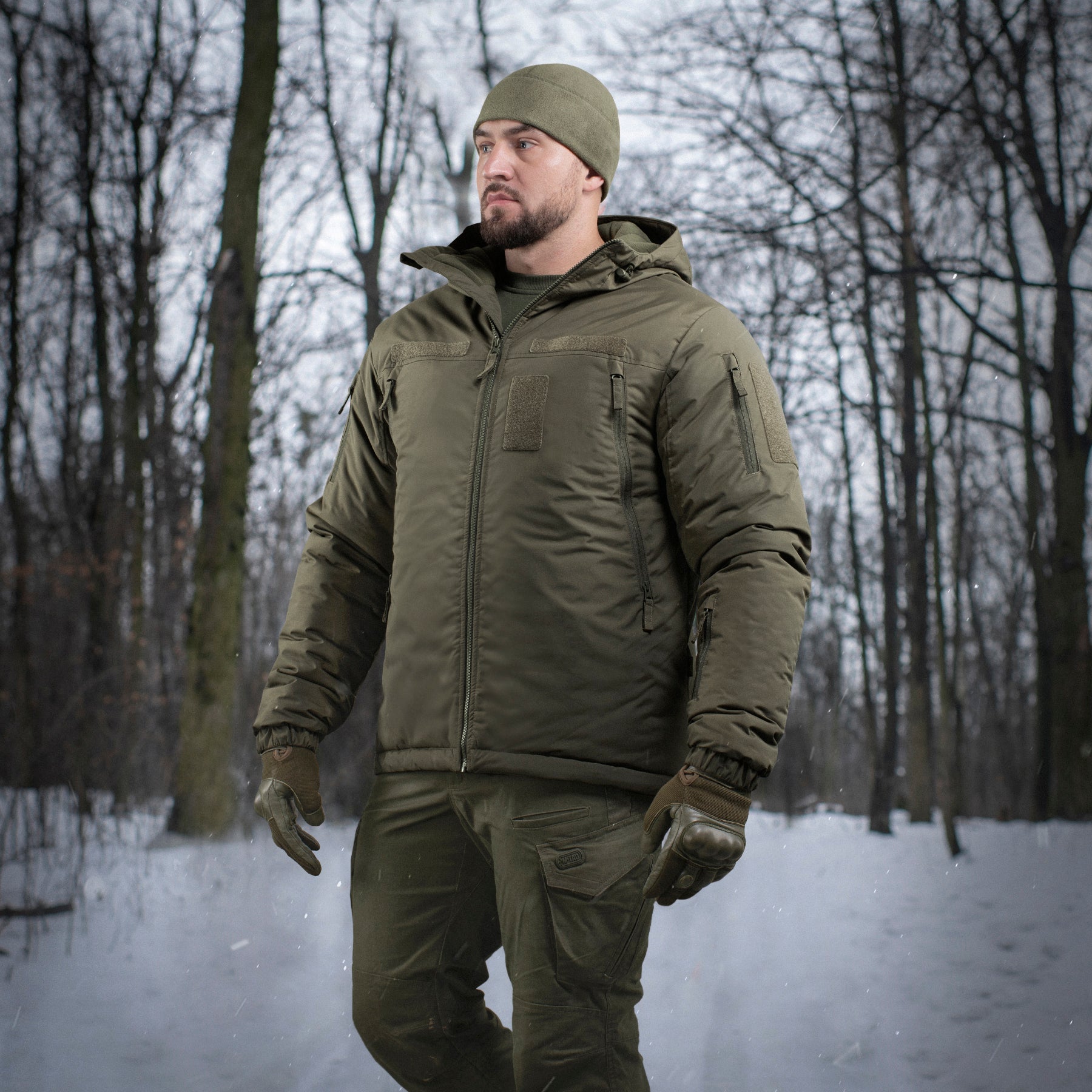 WINTER CLOTHES & ACCESSORIES
Military Winter Clothing: Stay Warm and Protected in Cold Conditions
When extremely cold temperatures come, everyone prefers quality fleece outerwear. M-Tac's thermal system offers men's tactical winter clothing specifically created in our factories for wearing in harsh climates. The assortment is presented by modern and casual fleece jackets, thermal shirts, fleece tactical watch caps, thermal underwear, fleece neck gaiters, thinsulate fleece gloves and so on.
Here are some reasons why military winter clothing is a necessity:
Protection from cold.
Increased mobility.
Durability.
Versatility.
All M-Tac military winter clothing items are breathable and lightweight. The manufacturer has also added side velcro panels to some of our models, which allows you to wear various moral patches. 
Our winter military uniform ensures great comfort and simultaneously provides an excellent level of camouflage. Cold-weather military gear by M-Tac should also be your top choice for shooting ranges, hiking, motorsports, and cycling activities. Additionally, M-tac quality products serve very well for winter hunting clothes.
M-Tac military snow gear is a unique combination of versatile and at the same time quite affordable products. No matter what arctic conditions you could face, the maximum level of effective insulation is achieved due to our product's high-tech materials.
Surviving Winter: Choosing the Right Military Clothing
Our tips and tricks for selecting the best winter military clothing to ensure optimal performance and comfort in extreme weather conditions:
Insulation: Choose clothing with good insulation, such as down or synthetic fill, to keep you warm in cold weather.
Water-resistance: Look for clothing that is water-resistant or waterproof to keep you dry in wet conditions.
Breathability: Make sure the clothing allows for breathability to prevent sweat buildup and discomfort.
Layer system: Build a layering system with base, mid, and outer layers for optimal warmth and protection.
Durability: Choose durable materials, such as nylon or Gore-Tex, to withstand harsh winter conditions and rough use.
Comfort: Consider the clothing's fit, weight, and mobility to ensure comfort during physical activities.
Size: Make sure to select clothing that fits properly to allow for layering and ease of movement.
M-Tac provides quality apparel and trustworthy protection from all-natural elements. There is a wide range of clothing and accessories for both youth and adults. 
Stay warm, and do whatever you like every day wearing M-Tac products. Tackle all possible challenges on your way, especially in extreme winter conditions. Make your order online and enjoy the unmatched durability and design of our products.